Enlio Sport flooring is the No. One preferred indoor PVC Sports Flooring and outdoor PP Court Tiles solution for over 10 years.Court Tiles Sports Flooring Supplier in numerous international sports competition events. Pertains to athletic facilities. Leading sports events organizers and national governing bodies put their faith in Enlio as its offers the highest levels of performance, Technology and innovation knowledge bring optimal comfort and safety. Suited to all levels and all sports for all users Wide range and trendy colors, be the architect of your sports floor.
Our Product range covers: PP Court Tiles, Sports Flooring, Badminton Court Mat, Table Tennis Sports Flooring, Basketball Sports Flooring, Volleyball Sports Flooring, Tennis Sports Flooring, Indoor Futsal Flooring, Gym Room Flooring, Kids Room Flooring, Dance Flooring, Handball Flooring, Multi- Purpose Flooring. Court Tiles ( PP Interlocking Flooring) Outside Basketball Court, Outside Tennis Court, Outside Multi-Use, Wet Area Mats, Futsal Court, PVC Sports Flooring. Our Surface Can meet all your needs.
Work with us, through our jointly efforts, it can yield good results we believe.
Size: 25*25*2cm
Color: Red Green, Blue,gray
2014-2015 /2015-2016 China Basketball Association
Strategic partnership we are exclusive equipment supplier of this games
2016-2017 FIBA 3X3 World Tour Beijing Qualifier of China
2018 FIBA3X3 Challengers /U23 World Cup/ Asia Cup/Euro Cup
Official Court Tiles to The Serbia National Basketball Team

Special designed for FIBA 3X3, Enlio new design interlocking court tile
3 x 3 Basketball is one of the newest Olympic Sports and will make an entrance at the Tokyo 2020 games. It`s a FIBA approved short form of basketball involving 3 players against 3 using one hoop and a much smaller court. We`re delighted to be introducing this surface from Sports Court into the International Events partenrship with Enlio. It`s an affordable way for schools and sports clubs to add an extra activity to their facilities and can be installed outside on a hard surface like an existing playground.
Enlio Interlocking Court Tiles SES III
Material: High Flexible Macromolecule
Size: 25X25X2CM
Feature:
1. Ball rebounce:97
2. Shock Absorption:56
3. Resistance on surface,specially on wet surface tested by TOP FIBA 3X3 players and get 100% positive feedback.
4. Used to 2018 FIBA 3X3 Challenge, Asia Cup, Euro Cup, U23 World Cup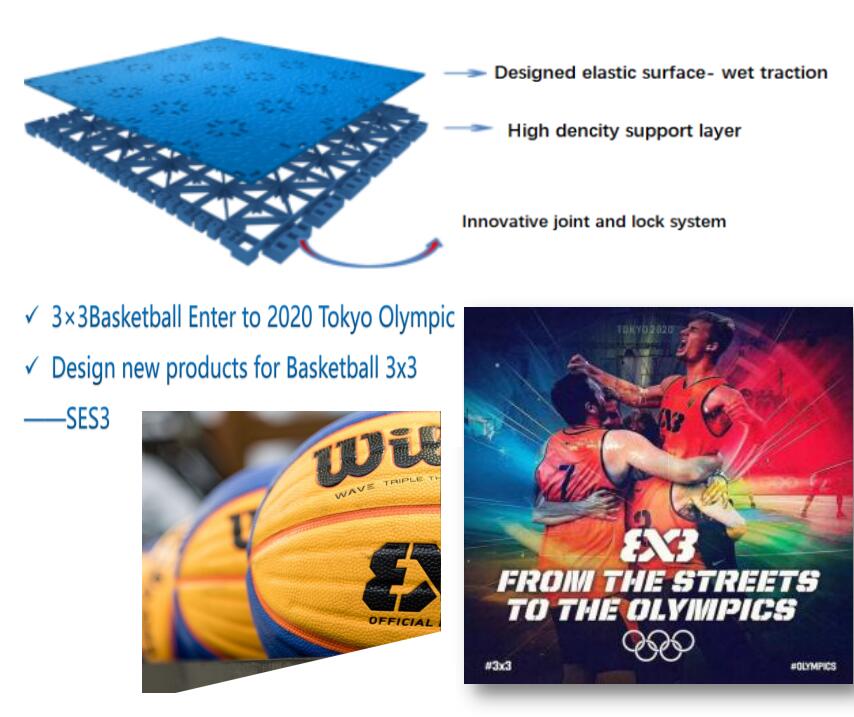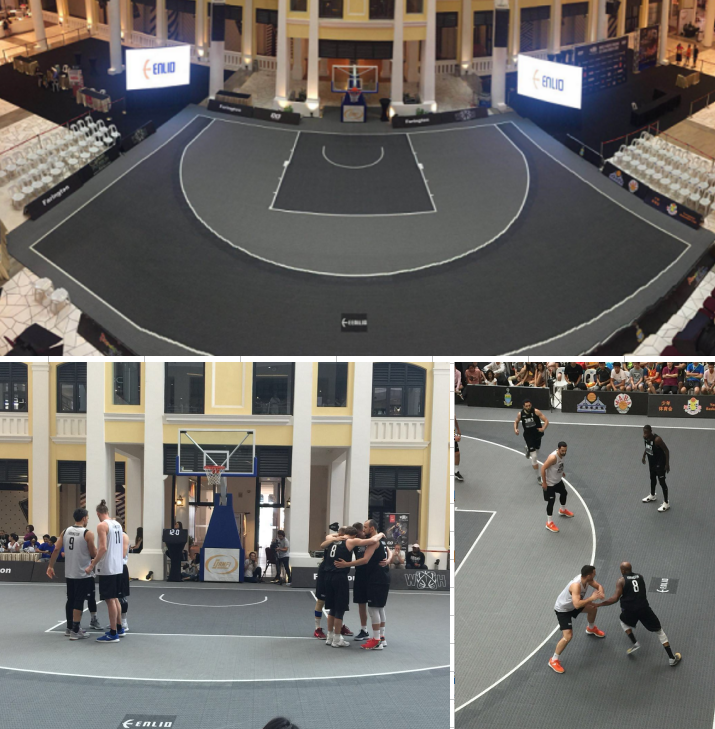 UNIVERSAL
3x3 is simple and flexible enough to be played anywhere by anybody. All you need is a hoop, a half-court and six players. Events can be staged outdoor and indoor in iconic locations to bring basketball directly to the people.
ENTERTAINING
The rules are very simple and designed to make it a fast, spectacular and exciting game. The non-stop music brings an authentic urban culture atmosphere, which attracts a new young audience to the games.
PROFESSIONAL
3x3 is an opportunity for new players, organisers and countries to go from the streets to the World Stage. The stars of the game play in a professional tour and some of the most prestigious multi-sports events. On June 9 2017, 3x3 was added to the Olympic Program, starting from the Tokyo 2020 Games.
Company Strength:
1. With the largest production base and warehouse for Court Tiles in the world, TOP annual sales for Sports Flooring.
2. 100% PP(Polyproplene) material, food standard, make sure a more stable quality.
3. Imported dye stuff from Germany Basf. Superior color fastness and anti-weather performance. The interlocking tile will be no obviously color change within 5 years.
4. Totally self-production from the particle, control quality from the very begining of the production.
5. Special injection molding process, no color shading, even shrinkage and flat surface. Anti-aging.
6. The unique flexable locking system, effectitily control the thermal expansion and contraction.
Application of Interlocking Court Tiles:
1.Tennis Court
2. Table Tennis Court Floor
3. Outside Tennis Court
4. Outdoor Basketball Court
5. Basketball Court
6. Indoor Futsal Court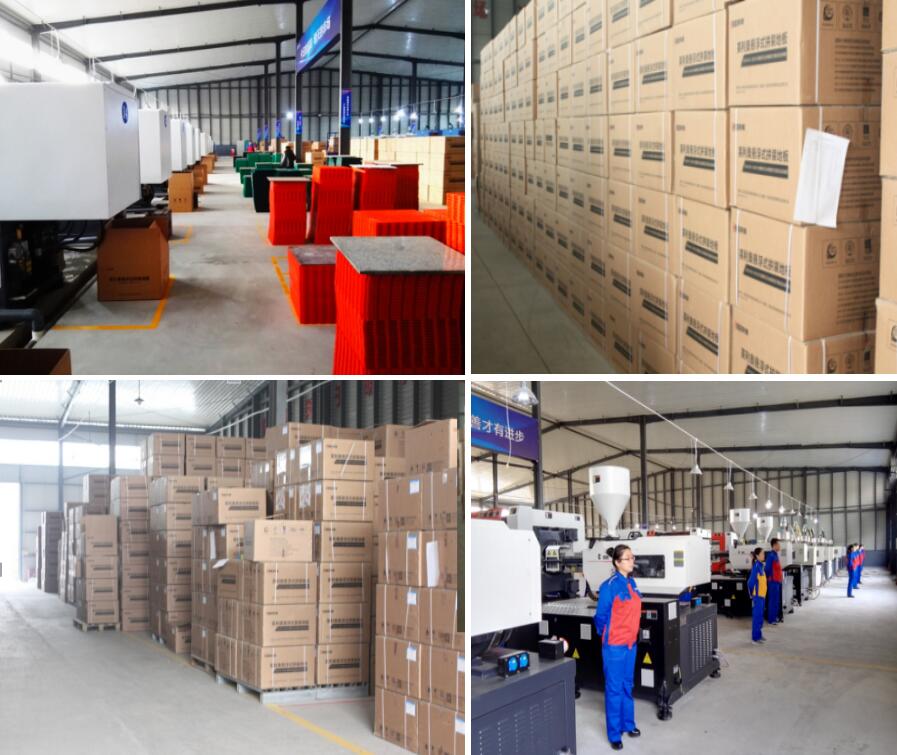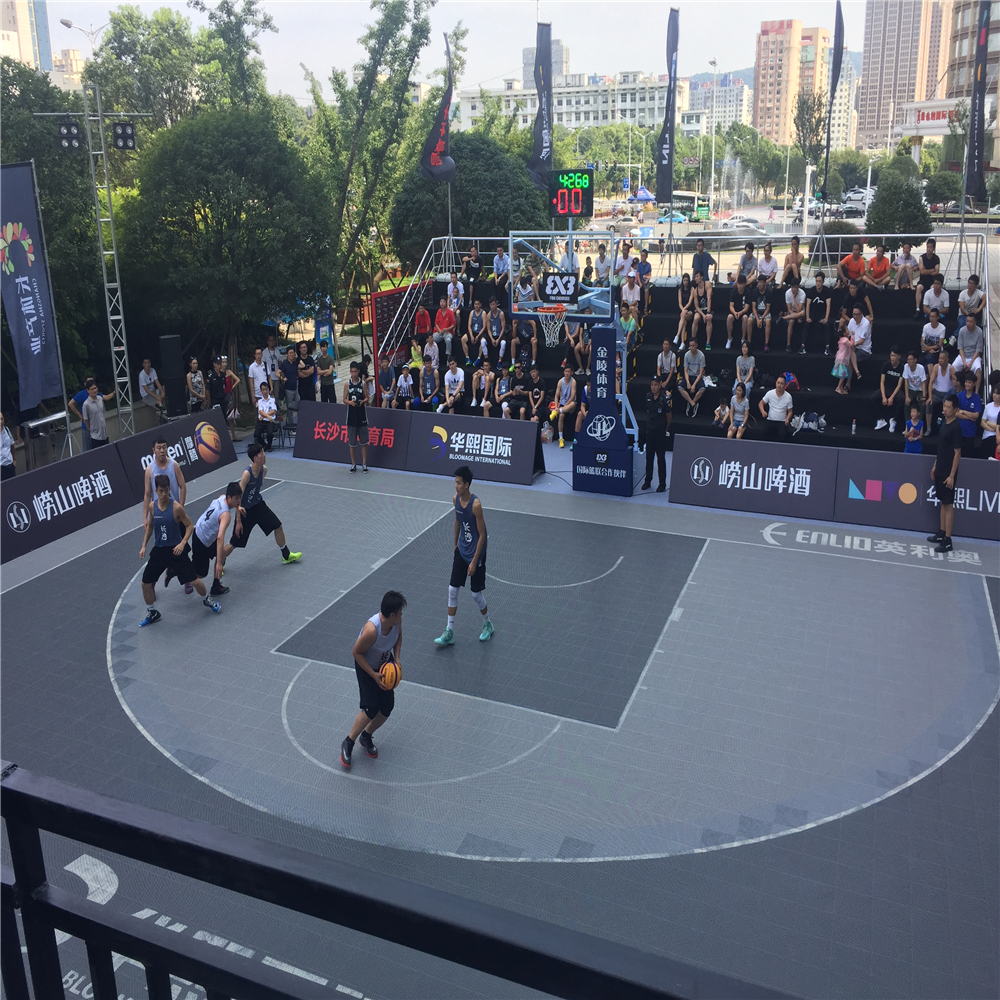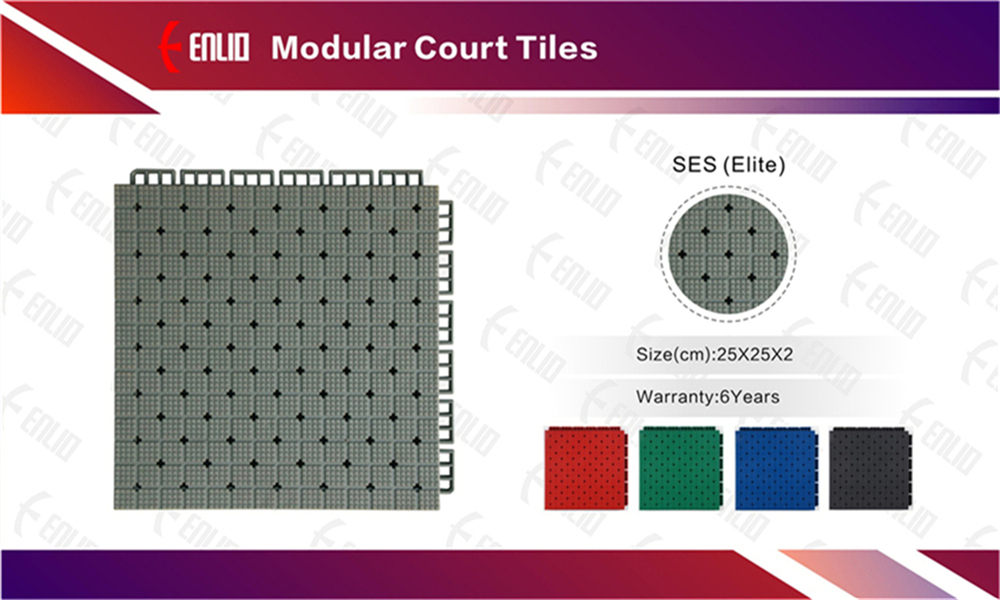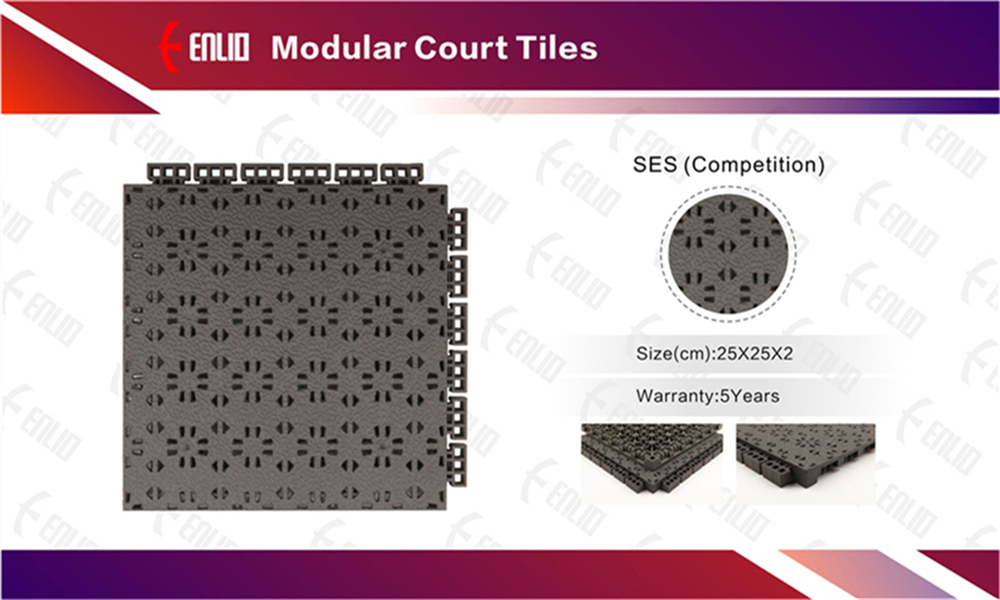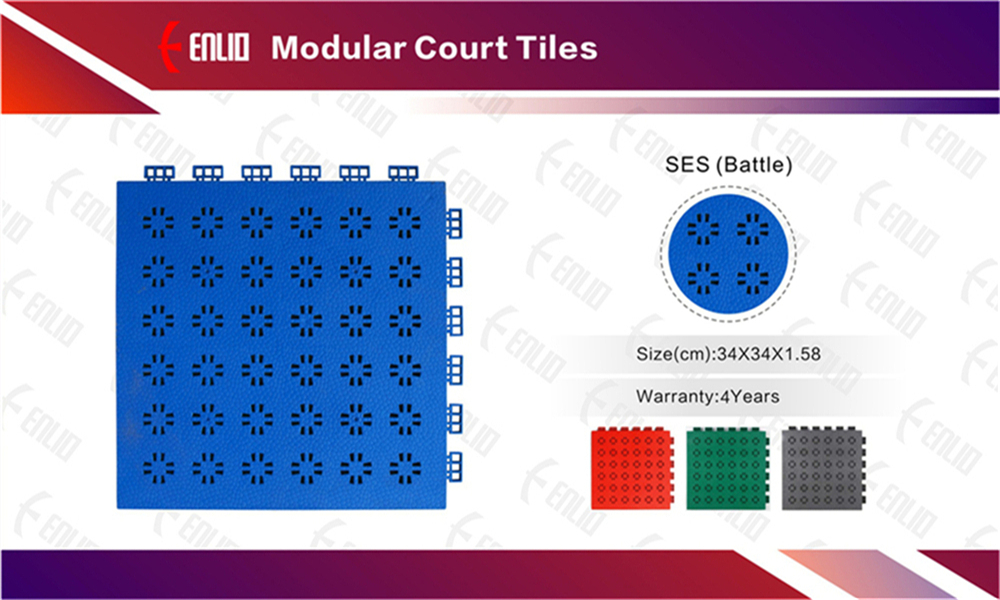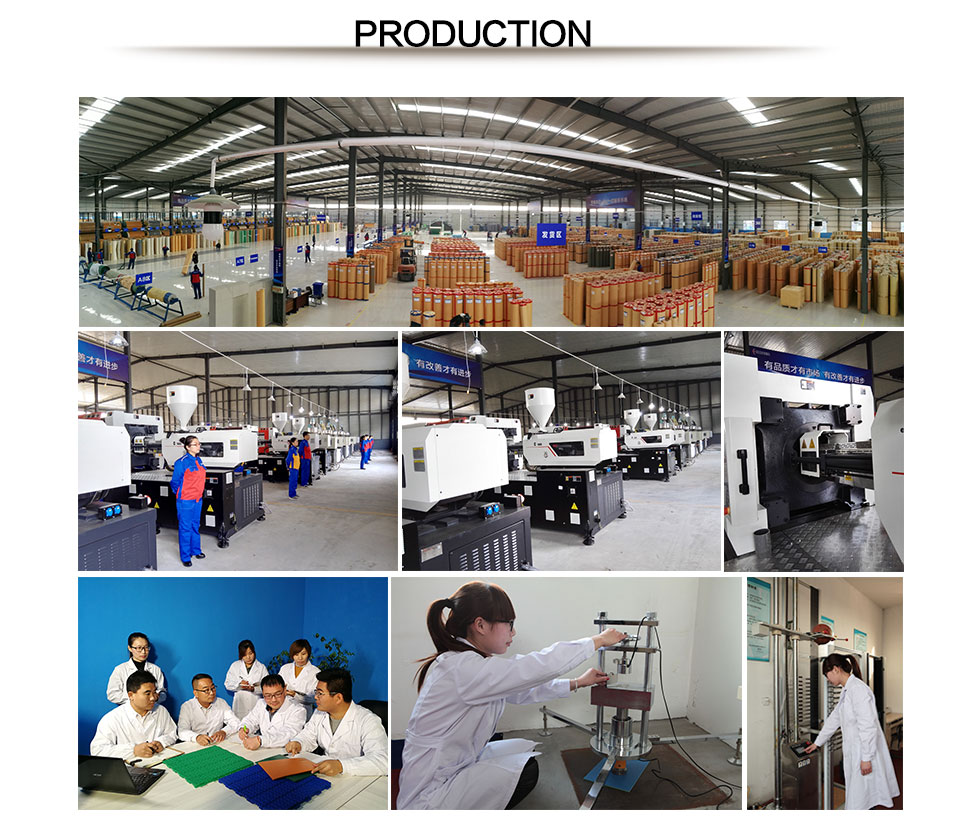 Some more information in case any questiones you may have:
1. Q: What`s your advantages?
A: Eco friendly raw material 100% raw material, all under EN standards, high trade assurance to ensure your benefit.
2. Q: Can you provide OEM service?
A:Yes, we could accept OEM orders for which the material, design, color and size. All will be made as your request with your logo on your sports flooring.
3. Q: Can you send a sample for my reference?
A: Sure, please send us the details information about the consignee and the consignee account number then we will send out the free charge samples.
4. Q:Besides the products mentioned above, what other products do you sell?
Our main products are whole series of indoor sports flooring and outdoor sports flooring.
5. Q:How can I get to your factory?
A:When you visit China, could call us then we will arrange the car to pick you
6. Q:How about your ordinary delivery period?
Usually we keep our regular products in adequate stock. Quick delivery is available for stock products.
Groupes de Produits : Revêtement de sol sportif > Revêtement de sol de basketball